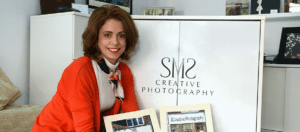 On 10 February 2019, Stella Scordellis from SMS Creative Photography celebrated 22 years in business. Going for a coffee with Stella it's clear to see she is well loved member of the Oxted community. Families wave as they walk past and people stop in the coffee shop to say hello. It's no surprise Stella has been asked to photograph families again and again over the years and has a wonderful portfolio of family photoshoots.
Stella's passion for photography was ignited at the age of 9 when she had her photo taken in a photography studio – where she worked doing a Saturday job aged 15 and then while training in their commercial studio aged 17. Stella soon realised she had an amazing ability to connect with people and, driven by her passion for photography, she signed a 9-year lease on a studio in Station Road East in Oxted which she opened on 10 February 1997 and where she is still based.
Stella initially experienced the self doubts shared by all new business start ups, asking herself, "What have I done? What if nobody comes?" but soon learned that her ability to use the medium of photography to tell a story meant she quickly developed a loyal customer base. "It was self belief and positive thinking which got me through. At the time I didn't think I had it but looking back that's what it was" explains Stella.
Stella has worked with many families over the years capturing special moments – new arrivals, birthdays, children as they grow up and even funerals with many photoshoots including much loved family pets. As Stella says, "a family photoshoot can be an incredible bonding experience, one that people want to repeat time and time again."
As well as photographing people in their home or her Oxted studio, Stella also likes using outdoor locations depending on the mood the photoshoot needs to capture – from bluebell woods to summer meadows Stella takes full advantage of the stunning Surrey Hills just a short drive from Oxted.
Stella's corporate photography includes professional headshots, entire teams and events, with many photos taken in the client's business which is more personal and enhances the story of the people behind the business.
In 2012 Stella started photographing classic cars and performance cars, capturing the beauty and fine detailing that makes these cars so special. This has taken her around the country from Goodwood and, the London to Brighton Veteran car rally to Silverstone, the Salon Privé Classic Car Show and the British Grand Prix. Stella is also no stranger to celebrities, having photographed many of them alongside some amazing cars, as well as at launches and charity events.
Talking to Stella it's clear she still has the passion for photography she did when she set up her studio 22 years ago. Having seen the transformation in the industry, embracing the opportunities of digital photography and seeing how we now live in a world where our visual history is documented on social media, intangible and disposable, Stella has seen an increase in demand for her high quality, hand crafted photobooks. Exquisitely presented, using the highest quality production techniques, personalised and beautifully bound, these photobooks are printed on paper designed to last generations and make the perfect gift.
Stella's passion remains telling the story, whether that be for a family, a company, a private or corporate event or a professional headshot to create the right professional image. She is keen to share her expertise, offering 121 tuition and talks to local groups. She also sees photography as a medium for capturing social history, something she is focusing on right now while documenting the demolition of the iconic gasholder in Oxted.
Stella's work has been exhibited at the RAC club in London and she regularly shares her work at exhibitions in her studio as well as on her website.
You can find out more about Stella and see examples of her work at www.smscreativephotography.co.uk and www.stellascordellis.com
This article forms part of Love Oxted's High Street Heroes series, highlighting the people behind our amazing businesses right here in Oxted.