Progress your career, return to work or develop a new skill with a Part-time Course at East Surrey College
The ongoing impact of Covid-19 has created many changes in our lives. You may have more time on your hands, you may be thinking of changing career or looking to improve your career prospects. Whatever your situation, a Part-time course at East Surrey College will help you achieve your goals.
As your local adult learning provider in Redhill, East Surrey College offers a wide range of courses for adults in the NEW Part-time Guide 2021/22. We are looking forward to welcoming students again in September and booking your place early is essential to avoid disappointment!
Professional Qualifications to achieve your career goals
Take the next step on your career path with a professional qualification at East Surrey College. We offer a range of Part-time qualifications and career skills courses across various sectors including Finance, HR, Marketing, Computing & IT, Construction, Engineering, Teaching, Counselling, Health & Social Care and Hair & Beauty. Choose a daytime, evening or weekend course to fit around your existing work or family commitments.
University Level Courses available to study locally
Why choose to study a University Level course locally? Low tuition fees, small class sizes and flexible entry requirements! East Surrey College offers a range of qualifications including HNCs, HNDs, Degrees, and Foundation Degrees, Professional courses as well as Higher and Degree Apprenticeships.
Essential skills for work
Maths and English skills are essential in the world of work or even to support your children with their homework. Maths and English courses are FREE for adults (19+) and available in a range of levels to suit your ability. We also offer a range of ESOL courses (English for Speakers of Other Languages).
We have all experienced a world where face-to-face communication hasn't always been possible, so it is essential to understand how to use digital technology to stay connected, whether you need to use a computer, a tablet or smart phone. Essential Digital Skills courses are designed to improve your understanding of digital devices and the internet.
Develop a new skill
A Leisure course is a great opportunity to try something new or develop existing skills. From affordable taster sessions to advanced levels, there is something for everyone including Arts & Crafts, Career Introductions, Cooking, Computer Skills, DIY Car Maintenance, Floristry, Languages, Hair & Beauty, Photography and so much more! We also run Saturday Arts Academies for 11-14 year-olds offering a fun and exciting opportunity for young people to improve their artistic skills and creativity.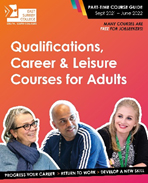 It's easy to apply or book online
View courses at www.esc.ac.uk, or download your copy of the Part-time Guide. Alternatively, you can pick up a copy at College or at local community hubs.
And when you find the right course for you, it's easy to apply or book online!
For additional information: (Not for publication)
Contact: Julia Jones, Head of Marketing
Email: JJones@esc.ac.uk
Address: East Surrey College, Gatton Point, London Road, Redhill, Surrey RH1 2JX
Dated: 6 July 2021